Where speed is key, secure fast access to funding with Norfolk Capital's New Construction Loans.
About Norfolk Capital's New Construction Loans
For experienced investors wanting to completely tear down and rebuild a property, or develop a new lot, Norfolk Capitals provides quick and flexible funding through our new construction loans. We work with you to tailor a hard money new construction loan to fit your needs. Rates start at a competitive rate, though vary depending on factors such as project stage and complexity, borrower experience, financial strength, and location. We can fund 1-4 unit residential units, multi-family, mixed-use properties, condo developments, townhome developments and built-to-rent developments.
The best bet is to call for a free consultation to see what we can do for you.

Advantages of our New Construction Loans
In the real estate market, obtaining funding is key to getting ahead and capitalizing on opportunities. With Norfolk Capital's hard money new construction loans, we can close much faster in comparison to a traditional lender that can take months to approve your loan application. While traditional lenders focus heavily on credit and prior financing history to determine eligibility, hard money lenders like Norfolk Capital use a range of criteria such as real estate investment experience and others to make a decision on funding your project. An important note to keep in mind is that for new construction loans, being an experienced real estate investor is a key requirement.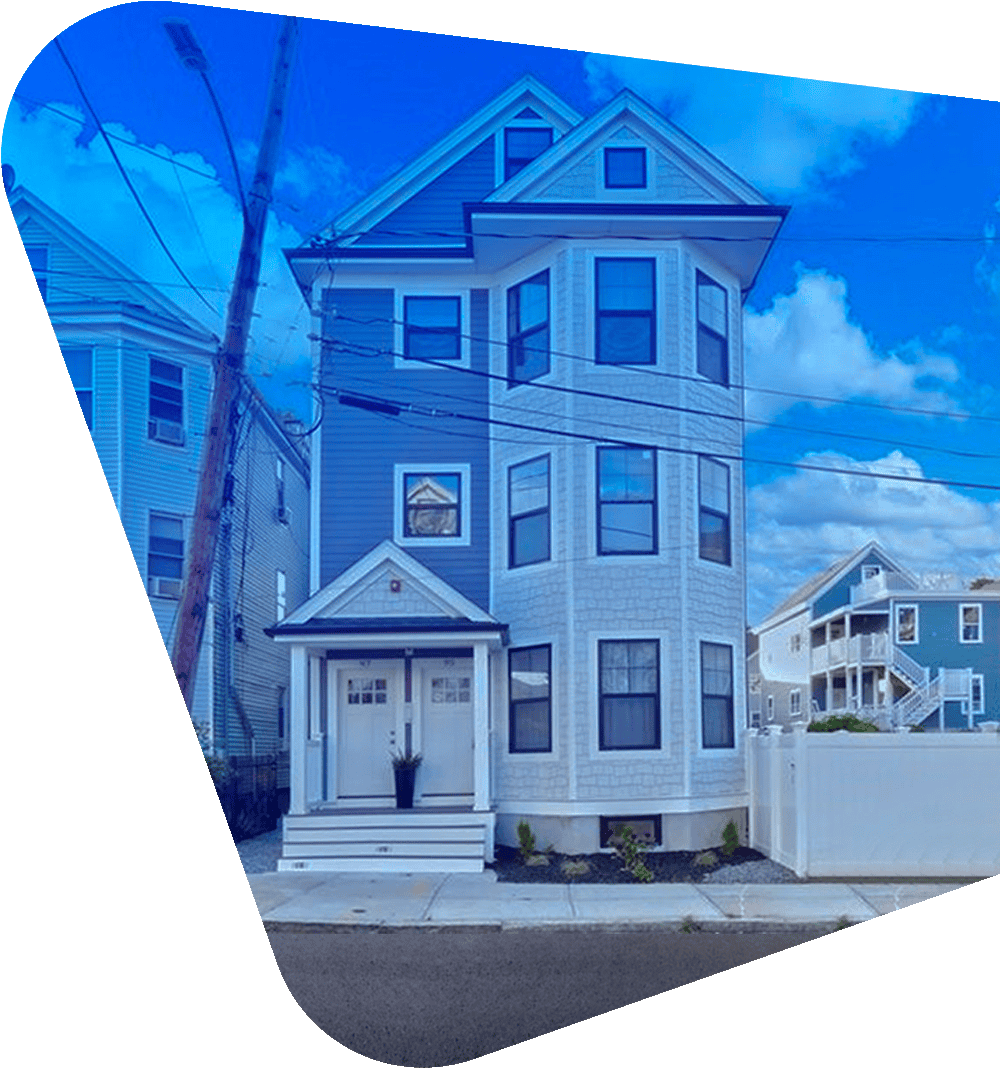 Frequently Asked Questions
What is a New Construction Loan?
A new construction loan is used to finance projects where the investor is demolishing the existing property and rebuilding from the ground up, or the investor has a permitted lot to develop. This is different to fix and flips where improvements are made to an existing property to increase the sale value.
To ensure projects adhere to the stated budget and timelines, new construction loans are phased out, whereby a portion of funds are distributed in stages while the remaining funds are held in escrow. Once a phase of the project is complete, the work is inspected to ensure it meets the details outlined in the scope of work and when the hard money lender is satisfied that it meets the requirements the next portion of funds are released. The draw schedule which determines when funds are distributed are based on the scope of work which describes each phase of the project in detail and the expected timeline.
What interest rate are your loans?
Interest rates start at a competitive rate, but are dependent on a number of factors, including project type and complexity, value of the project, loan size, location, and borrower experience.
What kind of New Construction projects do you fund?
We fund 1-4 Unit developments, with a minimum loan amount of $100,000 and a maximum amount of $5M.
Multi-family, mixed-use properties, condo developments, townhome developments and built-to-rent developments have a maximum loan amount of $20M.
What do I need to apply for a new construction loan?
Applying is easy, just give us a call or click the apply now button. You'll need the following information handy.
Be prepared with: 
Information about the project: 
Address

Property Type

Acquisition or refinance cost

Construction budget and plan, including, direct, soft, and hard costs

Expected value of completed project and income, if applicable
Information about yourself: 
Experience with similar projects

Job and stated income

Liquidity (cash and retirement accounts)

Other real estate owned

Credit score – We only run credit if we have to. But keep in mind that low credit is not a barrier to getting a loan.
What documentation is required?
Documentation may depend on the situation and requirements, but typical requirements include
Sales Contract or HUD from original purchase

Entitlements Permits for development, proof of utilities and road access

Plans and specs

Construction Budget

Bank statements

A list of properties you currently own (an REO Schedule)

Experience with Similar projects

Credit and background checks

Rental income (for rental projects)

Two years of tax returns

LLC Operating agreement or Articles of Incorporation

Builders risk and general liability insurance, assigned to Norfolk Capital

Feasibility study and as-is and after renovation appraisals to be ordered before underwriting

Environmental Screen Report  if there is no existing building
How much money do I need to close?
Liquidity at closing depends on a number of factors, but will include funds for: 
Down payment

Money to start work on your project

Closing costs and loan fees

Interest payment reserves
Some of this will be collected at closing, some of it we will want to see in your bank statement to make sure you have the liquidity to keep the project moving.
We will fund up to 85% of the cost of the project. This means we will fund 85% of the cost or as-is value of the property, plus the 85% of the construction costs. We do have some programs that will fund more than 85%, for the right borrower and project. The best bet is to call for a free consultation to see what we can do for you.
What States do you lend in?
AL, AK, AR, CO, CT, DE, DC, GA, HI, IL, IN, KY, LA, ME, MD, MA, MI , MS, MO, NE, NH, NJ, NM, NY, OH, OK, PA, RI, SC, TN, TX, WA, WV, WI, WY
Are new construction loans fully funded at closing?
The construction budget is held in reserves at closing, and typically interest is not charged until the funds are used.  Funds are accessed through a draw process. Once a portion of the project is completed, you request a draw inspection.  The inspector typically comes out within 48 hours to review work and submits a report.  In some areas, this is a member of the Norfolk Team who partners with you throughout the process.
Can I qualify if I have bad credit?
Hard money loans are focused on asset-based underwriting.  As a result, credit score is less important than the project and other factors such as your experience.  We'll want to understand the situation behind your credit score, but borrowers with bad credit qualify for hard money loans all the time.
Call us or apply now to get a free consultation to discuss your situation!