Top 3 Areas of a Fix and Flip to Focus on for a Higher Return

In many situations, investing in real estate to flip it can provide a sizable return. To get the most out of the process, it's important to make every dollar count as much as possible. That's going to lead to a better return and, in some situations, create profits that help you fund your next flip. But where should you put your money?
Areas to Invest in Your Flip with the Highest Potential ROI
There are many areas of potential investment benefit, and every project needs to stand on its own in terms of unique needs. The goal is to create the best return on investment (ROI) possible. All things equal, a few areas may benefit the most from capital infusions.
#1: Outdoor Impacts
A good place to wow prospective buyers is with an investment in curb appeal. While that may seem like adding flowers and trimming trees, you can go a bit further. You don't want people to think they are buying a home that was once in bad shape. That's why a few outdoor investments can stack up well, including:
Update the garage door, especially if it is a substantial part of the front of the home.

Add a beautiful front door to the home, perhaps one that pops with color.

Replace the siding if it's discolored, damaged, or outdated. Siding is far less expensive than roofing but offers a big wow factor.

Invest in some cleaning of solid surfaces, including decks, patios, entryways, and the driveway itself – power washing is an inexpensive way to do this.
#2: Tackle the Biggest Interior Projects
Next, step into the home and look for outdated or damaged elements that need replacing or updating. The key here is to look for large components that make the biggest impact when modernized. Some areas to consider include the following:
Update the flooring with new laminate wood products that are less expensive but create a nice look quickly.

Modernize bathroom vanities and fixtures for an inexpensive but significant improvement. Ensure bathrooms sparkle with cleanliness, right down to the grout.

Eliminate problems such as mold, terminates, and foundation problems as these often are the main reason people walk away from a property.
#3: Boost Living Space
Look for ways to add more living space to the home without significant renovations. If you choose a layout that isn't very open or involves a number of structural changes, you're spending a lot. Instead, consider:
Ensuring there's an outdoor deck or patio area for a table and chair set.

Add a master bedroom by adding a bathroom to an existing bedroom.

Turn large storage areas into productive spaces such as game rooms or added bedrooms.
Get the Right Lending in Place to Support
Your Next Flip's Success
Funding your flip doesn't have to be challenging. With access to real estate hard money loans through Norfolk Capital, it's possible to have the funding you need to achieve any of your goals. Reach out to us today to learn more about the opportunities we have to help you turn your next flip into a success.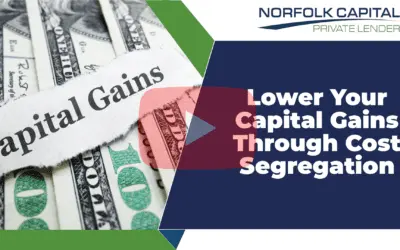 As a real estate investor, you likely understand the importance of maximizing your profits and minimizing your taxes. One way to do this is through cost segregation, a tax strategy that involves identifying and reclassifying certain building components as personal...